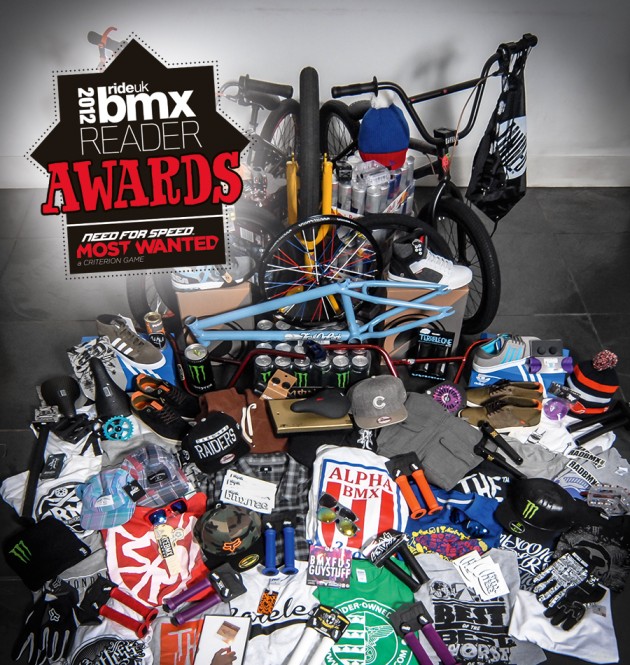 Following on from the outstanding success of last years Reader Awards, we decided to go through the whole process again this year. Once again, you the readers will have the opportunity to vote for your favourite riders, brands and stores, you will also then go into the draw for one of the biggest prizes in Ride UK history, and on top of that, you will also have the chance to attend the actual awards show itself (over 18's only… sorry). In celebration again of the 2012 Ride UK Reader Awards event we have joined forces with various BMX brands that have supported us over the years to bring to you one of the biggest product giveaway these pages have ever seen. Complete bikes, frames, forks, bars, stem, cranks, hubs, wheels, seats, grips, shoes, clothing, drinks and anything else we could find to add to the box will be going out again to not one, but three lucky Ride UK readers. This offer is once again too good to pass up… so here is the low down.
Ride UK BMX has announced the '2012 Reader Awards'. With by far the largest BMX audience in the country, we wanted to give a voice to you, our magazine readers and online users – hence we will be letting you decide who the most talented riders in the UK are as well as various other categories.
Categories include…
UK Street rider of the year.
UK Park rider of the year.
UK Dirt rider of the year.
Worldwide rider of the year.
UK Retailer of the year.
Bike brand of the year.
UK Retailer of the year.
UK Park of the year.
Ride UK cover of the year.
Edit of the year.
How to enter…
For your chance to be entered into the Reader Awards giveaway, all you have to do is fill out the online 'Reader Awards' survey (making sure to answer all the questions). This package will be split into three parts, with three lucky readers being chosen at random from the list of survey entries. The full survey results will be announced in December, so keep an eye out for Awards show coverage both in the magazine and online.
Take a deep breath, as here is what you can win…

The Source – Custom front wheel
(Primo rim, BSD hub), Logo tee
BSD – Trail or Park frame
Blank – Select cranks
TSG – Evo Helmet
ABD – , Kingpin 2 complete bike,
Kochwuerste grip, Gold Plus pivotal seat
Fox – Zip Fleece, L/S Knit, Logo tee, Logo Camo cap
Vans – Secant shoes, Variable shoes,
2 x Logo OTW tees
DC – Logo Hood, Flannel shirt
Alpha BMX – Alpha logo hood, Primo N4 front hub
Rad BMX – Primo Twitgrip, Federal logo grip, BMXFU DVD, 2 x Quintin caps, United bag, Rad BMX stickers
Odessa – Westminster shoes, Burrell shoes
Shitluck – Take it or Leave it DVD
Relentless – 5 x crates of Relentless Energy Drink,
1 x Logo hood, 1 x Logo tee, 1 x iPhone case
ODI – 8 x ODI assorted grips
Gusset – Nitro SB pedals, PCP Plastic pedals, Pinhead pedals
Premium – Whiskey Bars
Social – Plastic pedals
Red Bull – 5 x crates of Red Bull Energy drink
Jet BMX – Basis complete bike
The Fold – 2 x Logo tees
Sunday – Gary Young Pro complete bike
Monster – 1 x crate of Monster Energy, 1 x BFC,
1 x Logo tee, 1 x Logo cap, 1 x Logo beanie
Go Pro – Hero 2 camera
New Era – 2 x Snapback caps,
3 x Beanies, 1 x Logo tee
Diamond Back – 2 x Logo tees
The Lab – 2 x Logo tees, Label beanie
ATW – Careless tee
Xposure – Plastic pedals, Infinity stem, Infinity sprocket
United – 2 x Direct tyres
ANML – Nigel Pivotal seat
FIT – Benny L Front Load stem
S&M – Sharpie Shield tee
FBM – Hub Guard
T1 – Joe Rich Grip
Bicycle Union – Map glove
Adidas – Rayado Mid shoes, Seeley shoes
Vocal – Tweet bars, Ecliptic sprocket,
Logo tee, 4 x sunglasses
Tempered Bikes – Cross Bones stem, 2 x Logo tees
Custom Riders – 2 x Logo tees