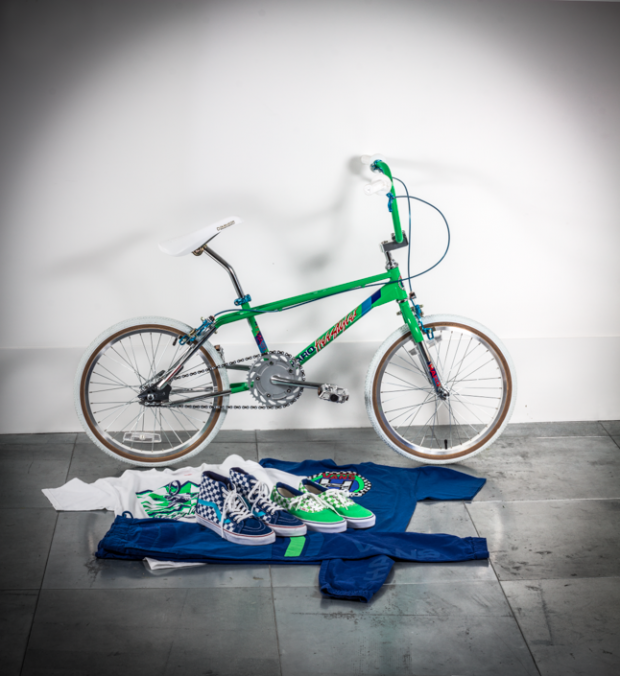 One for you old – schoolers out there…
Not too many brands out there can claim to have been around from the very early days of BMX, but two who certainly can are Vans and Haro. Almost a staple of any BMXer in the 1980's, both brands have gone on to stand the test of time, and are still to this day doing so, bringing out both strong and innovative products while also keeping some of the old classics. As a stroke of pure genius, someone at Vans and someone at Haro got together and had a conversation where they decided to partner up and shout about their heritage to you the readers.
Starting with the Vans classics footwear, they have taken two models and tweaked up the colourways and logos to include certain Haro twists. Throw in a couple of classic logo tees, and randomly a set of 80's style race pant trousers and the colab was almost complete.
They obviously thought that wasn't enough, so have gone one step further to recreate the Haro Master Freestyler, in an extremely limited run that will see only 20 available in Europe… And we have one of those very 20, for one lucky Ride UK BMX reader.
What you can win –
Limited Edition Haro x Vans Master Freestyler
Limited Edition Haro x Vans Sk8 Hi shoes
Limited Edition Haro x Vans Era shoes
Limited Edition Haro x Vans Logo tee
Limited Edition Haro x Vans Gettin' Crit tee
Limited Edition Haro x Vans Race pants
For your chance to win the above prize, all you have to do is answer the following question: